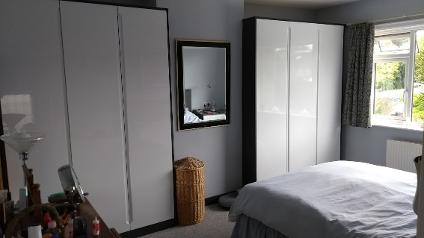 Problem
This bedroom isn't particularly large and the previous wardrobes made it look cramped and tiny.
Solution
I solved this by leaving a little space on top, and with clever use of colour and design the room now looks relaxing and spacious. The wardrobes are fully carcassed and a full 560mm internal depth. The handleless style also helps.
Problem
This musician needed somewhere to store his sheet music. Manuscripts and scores are a lot bigger than A4!
Solution
Because all of my pieces are bespoke it was no problem to make the hanging file drawers exactly the right size to contain all the music. And it didn't cost any more than standard file drawers.